Hope you're having an amazing day, Lori Sue!
My cousin is having a birthday and I made her a cake.  She lives in South Carolina so she won't get to eat it, but we will take on that task for her.  I picked Mint Chocolate Chip because I remember going with her to Friendly's Ice Cream in Ohio in the summer at Grandma's and that was always her flavor of choice.
The cake is yummy!  I'll make it again next time I see you.  Hope it's soon.
I found some photos I hope you will enjoy of Lori Bori.  This looks like the top of Stone Mountain and since I possess the picture it would seem like it might be (since they lived in Michigan.)
Another summer fun photo. I don't know when it was taken.  Maybe someone in the photo can update.
Lori is a cat lover.  Here she is in 1971 showing some love to her kitty.  I have always enjoyed this sweet picture of the fam because of the expression on the cat's face and also because of the retro tinsel on the tree and the super groovy lamp in the back. I could go on… I did enjoy the 1970's.
Also in the 1970s we hit many Woolworth photo booths.
Here we are in 1979 in Detroit, Michigan at the National Flute Convention.  We had an epic trip.  We used to play the flute (and piccolo) together at our churches.
And here she is more recently.  Looking fabulous, Birthday Girl!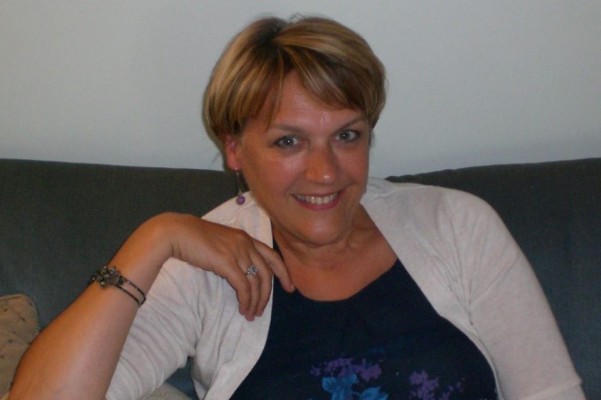 Love you and miss hanging out with you!!!!
Mint Chocolate Chip Birthday Cake
2 cups sugar
1 3/4 cups all-purpose flour
1 cup unsweetened cocoa powder (Hershey's Special Dark)
1 1/2 teaspoon baking powder
1 1/2 teaspoon baking soda
1 teaspoon salt
2 eggs
1 cup milk
1/2 cup vegetable oil
2 teaspoons vanilla extract
3/4 cup boiling water
Frosting:
2 sticks (1 cup) butter, softened
1/3 cup heavy cream
2 teaspoons mint extract
1 teaspoon vanilla extract
green food coloring
4 cups powdered sugar
2 ounces semisweet chocolate finely chopped
Preheat oven to 350 degrees.  Grease and flour 2   9-inch round cake pans.  In a large mixing bowl, combine sugar, flour, cocoa powder, baking powder, baking soda, and salt.  Whisk together until fully combined.  Add eggs, milk, oil, and vanilla and beat on medium speed for 2 minutes. Scrape the sides of the bowl, then slowly stir in the boiling water.  Pour batter evenly into prepared pans and bake for 30 minutes or until tops of cakes spring back when lightly touched.  Remove cakes from oven and allow to cool in pans for 10 minutes.  Remove cakes to wire racks to cool completely.  To prepare frosting, beat butter, cream, and both extracts on medium speed until smooth.  With mixer speed on low, slowly add powdered sugar and mix until just combined.  Add food coloring and increase speed to medium high and beat for about a minute until frosting is light and smooth.  Adjust if too thick or thin. Fold in chopped chocolate. Frost cooled cake.
Adapted from Hershey's and Confessions of a Cookbook Queen
Seriously, try this cake. It is super good!
Not even kidding!